The Election Special is a special episode and first episode in the Banter Wars Obliteration spinoff series. The episode only has one battle and it revolves around the 2016 US Elections. In fact it was aired a day before the elections.
Competing Robots
Edit
Hillary Clinton vs Donald Trump
Edit
From the very start Hillary Clinton manages to smack Donald Trump with the large flywheel but quickly Donald Trump get in with the flipper and starts flipping her about and towards a pulverisor. After a quick escape Hillary Clinton is attacked again and is flipped into a corner and then over the spike wall, however, Donald Trump suffers huge amounts of damage and is brought to the brink of defeat through the spikes in the ground. Donald Trump flips Hillary Clinton onto the spiked wall but is shortly immobilized. Observabot soon fights Hillary Clinton and survives.
Winner:Hillary Clinton
Watch here
Edit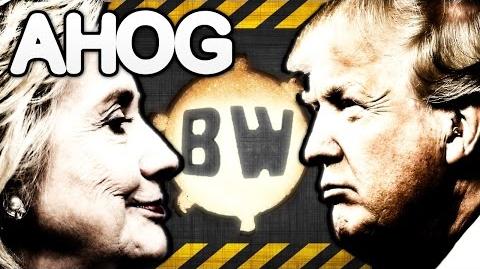 This episode marks the first appearence of the upgraded Observabot.
This is also the first time in which DSL mod is used.
Ad blocker interference detected!
Wikia is a free-to-use site that makes money from advertising. We have a modified experience for viewers using ad blockers

Wikia is not accessible if you've made further modifications. Remove the custom ad blocker rule(s) and the page will load as expected.