Weapons Match were fights between four robots with similar weaponry, e.g. a melee with four robots armed with axes. There were three weapons matches and a final with all the heat winners battling it out to see who has the better weapon.
Competing Robots
Edit
Flippers FightEdit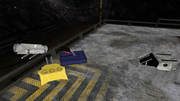 QueenBlaze begins by attacking Golden Dragon straight away, ramming it to the arena side wall with Poshington's Prized Box following suit. Both Poshington's Prized Box and Golden Dragon flip QueenBlaze at the same time, throwing QueenBlaze out of the arena, a first ever in Banter Wars. Facetious Goose finally emerges and tries to attack Poshington's Prized Box. But like QueenBlaze before it Golden Dragon flips Facetious Goose out of the arena. Both Poshington's Prized Box and Golden Dragon turned their attention to one another, with Golden Dragon being the more aggressive, flipping Poshington's Prized Box about but Poshington's Prized Box kept coming back. However near the end of the Flipper Frenzy, Poshington's Prized Box got the upper hand, flipping Golden Dragon and almost turning it onto its back. Poshington's Prized Box then continuously shoved Golden Dragon around the arena throughout the remainder of the match. In the last 5 seconds, the two came head to head together. Despite the late effort by Poshington's Prized Box, it was too late and Golden Dragon was awarded the win by the Judge.
Winner: Golden Dragon
Axes & HammersEdit
Winner: MyMateJim
Spinners BattleEdit
Winner: Stickman
Ad blocker interference detected!
Wikia is a free-to-use site that makes money from advertising. We have a modified experience for viewers using ad blockers

Wikia is not accessible if you've made further modifications. Remove the custom ad blocker rule(s) and the page will load as expected.