Welcome to the Banter Wars Wiki (BWW), the #1 and ONLY encyclopædia for Banter Wars that anyone can edit.
Tally ho and welcome to BWW (pronounced B-Double-W), the perfect fan-page for those who are die-hard fans of A Heap Of Games and MiniKegCar's Banter Wars series! If you are completely new here, we, Botomatic1000, Diotoir the son of nemesis, RobotDeathMinister (formerly FightingBotInformal), AHeapOfGames (yes, it's HIM), and Jamied666, highly recommend checking out the beginner's help guide!
USER REACTIONS TO DRAWING:
"OH MY GOD WHY AM I A SPOOKY SCARY SKELETON GUY?" - FBI 5/8/2017
Vote below for something!
What exactly is Banter Wars?
Banter Wars is a robot combat competition and game show run by YouTubers A Heap Of Games aka Adam the Prime Minister and MiniKegCar aka Vice President Jim. The competition is based on the BBC/Five TV show Robot Wars and the Comedy Central/ABC TV show BattleBots, and runs on the game Robot Arena 2: Design and Destroy. A portion of the robots from Series 1 were from his original Robot Arena 2 series, while the rest were themed after characters from his YouTube channel (e.g. Twig or Mr. Doctor). Series 2 (aka Banter Wars II) featured robots built by or for YouTubers, GameTechMods users, and even fellow Banter Wars Wiki users (as a matter of fact, it was won by a Banter Wars Wiki user)! Series 3 had been originally rumored to run on Robot Arena 2's successor Robot Arena 3, however the current state and reviews of the game made it unlikely that would ever happen! Thanks to votes on the Banter Wars Wiki, Series 3 will run on the stock (original) version of Robot Arena 2!
The Leaderboards
Series 1
| Position | Robot | Wins | Losses |
| --- | --- | --- | --- |
| 1st | The PM's Pulverisor | 6 | 1 |
| 2nd | An Ordinary Robot? Blimey! | 5 | 1 |
| 3rd | Bone Bugger-Upper | 4 | 1 |
| 4th | Billy-Bob Beard | 4 | 1 |
| 5th | Wizard of Banter | 3 | 2 |
| 6th | Dinner Plate | 3 | 2 |
| 7th | Crikey O'Blimey | 2 | 1 |
| 8th | The Day Ruiner | 2 | 1 |
| 9th | The Cap'n's Merry Ship | 2 | 1 |
| 10th | El Moustacheo | 2 | 1 |
| 11th | It'sa Meee! | 2 | 1 |
| 12th | Silly | 2 | 1 |
Series 2
A Heap Of Games' Banter Wars Updates
Banter Wars GO is under way! On any random BW-related video on the AHOG channel, annotations containing download links can be found, where you can download special, limited edition robots! Get searching!
But don't forget Episode 2 of Banter Wars Obliteration: The Religious Special! =D
☀https://www.youtube.com/watch?v=5DFtcB9VMR8
Download the Banter Wars MegaPack, containing all playable robots from Series 1 to 2.5! Just import them into your workshop teams from the Robot Design folder!
https://www.dropbox.com/s/3tz719nwbbbj55a/Banter%20Wars%20Game%20-%20Complete%201-2.5.rar?dl=0
Keep up the banter!
-AHOG
The latest activity here on the Banter Wars Wiki:
Photos and videos are a great way to add visuals to your wiki. Find videos about your topic by exploring Wikia's Video Library.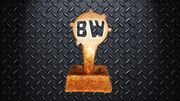 Ad blocker interference detected!
Wikia is a free-to-use site that makes money from advertising. We have a modified experience for viewers using ad blockers

Wikia is not accessible if you've made further modifications. Remove the custom ad blocker rule(s) and the page will load as expected.