Blimey McTrousers

Participation Information
UK Series
1
Team Members
Prime Minister Adam
Robot Statistics
Weapons
Static ramming spike

Robot statistics correct as of its most recent appearance on the show
"Made in the pits of Hell"
— Interesting fact
Blimey McTrousers was a robot built by the Prime Minister for the original series of Robot Arena 2 but also competed in Series 1 of Banter Wars. It utilised an incredibly powerful and fast 4x4 drive system accompanied by a static spike that was surprisingly effective in damaging robots. It was unfortunately defeated in a shock in the eliminators.
Robot History
Edit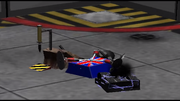 Blimey McTrousers fought I Don't Know What to Call It and Crikey O'Blimey in its eliminator. Blimey McTrousers was almost immediately attacked by Crikey O'Blimey and suffers some major damage. Blimey McTrousers slammed into I Don't Know What to Call It with its spike causing some damage. Both I Don't Know What to Call It and Blimey McTrousers ganged up on Crikey O'Blimey, attempting to get rid of the favourite. After Crikey O'Blimey was flipped by the arena flipper, both robots go and fight each other. However, then Crikey O'Blimey, who landed on its wheels, returns and then immobilised Blimey McTrousers. Blimey McTrousers was unexpectedly eliminated from the competition.
Wins/Losses
Edit
Series Record
Edit
Series 1: Round 1
Series 1.5 - 2: Did not enter
Ad blocker interference detected!
Wikia is a free-to-use site that makes money from advertising. We have a modified experience for viewers using ad blockers

Wikia is not accessible if you've made further modifications. Remove the custom ad blocker rule(s) and the page will load as expected.