Delta Thunder

Participation Information
UK Series
1.5
Team Members
Thrackerzod
Other Entries
Carnival Crusher (Series 1.5 - 2.5)

Carnival Cruncher (Series 3 - onwards)

Robot Statistics
Weapons
Front-hinged pop-up spikes

Robot statistics correct as of its most recent appearance on the show
Delta Thunder was a robot built by Thrackerzod. It was basically a wedge-shaped robot with a lightning paint-job and was armed with powerful front-hinged pop-up spikes. It only competed in the Challenge Belt but was famous for committing the shortest battle in Banter Wars history. Delta Thunder was also the primary reason along with RedAce's Blood Shed on why Adam imposed the "Anti-Pop-Up Rule" in Banter Wars starting in Series 2.5.
Robot History
Edit
As the fifth challenger it fought the current holder Signal Jammer. Delta Thunder used a similar tactic to Blood Shed by simply ramming into Signal Jammer, however, unlike Blood Shed it was Signal Jammer that flew overhead and was instantly immobilised from the one hit from Delta Thunder's weaponry. This is the quickest battle in Banter Wars history. Delta Thunder chased after Observabot, out-wedged it and brutally immobilized it within a few hits from its weaponry.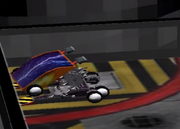 Now as the Challenger Belt holder it fought the final challenger, Hex 2. Delta Thunder's tactic of ram and flip didn't pay off this time against Hex 2 who instantly used its blades to smash and tear the flipper bot. Hex 2 throws Delta Thunder about the arena using the blades, ripping off a wheel in the process. Hex 2 leaves Delta Thunder stuck on the side wall where it was counted out.
DELTA THUNDER - RESULTS
Series 1.5
Challenge Belt
Challenger 5
Challenge 5
vs. Signal Jammer
Won
Challenge 6
vs. Hex 2
Lost
Wins/Losses
Edit
Series Record
Edit
Series 1: Did not enter
Series 1.5: Challenge Belt
Series 2: Did not enter
Outside Banter Wars
Edit
Delta Thunder recently came out of retirement to only compete in Banter Wars Ragnabots, which it won after defeating The PM's Son-in-Law, and was retired again.
Ad blocker interference detected!
Wikia is a free-to-use site that makes money from advertising. We have a modified experience for viewers using ad blockers

Wikia is not accessible if you've made further modifications. Remove the custom ad blocker rule(s) and the page will load as expected.