Disembowler

Participation Information
UK Series
2.5
Team
Jimjamatic
Team Members
Jimjamatic
Robot Statistics
Weapons
Vertical Flywheel on a 360 Degree Rotating Arm

Robot statistics correct as of its most recent appearance on the show
Disembowler is a wedge shaped robot armed with vertical spinner attached to an arm, which is meant to help it self right. The robot made its debut in Series 2.5 in the King of the Hill where it lost. It was built by Jimjamatic
Robot History
Edit
Series 2.5
Edit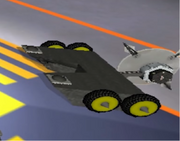 In its debut it fought fellow spinners Hammerhead, Green Reaper and non spinner The Follicle Challenger. Along side the other spinners it ganged up on The Follicle Challenger causing some severe damage. While Green Reaper attacked The Follicle Challenger, Disembowler rips off the flippers of Green Reaper. However, as it attacks Green Reaper, Disembowler flips itself over and struggles to self right with the chaos going on around it. It is soon counted out and eliminated from the competition.
Next, Disembowler was entered into the New Blood competition, where it faced Four, Gale Force X, and Lazy Laceration. Immediately, Disembowler went after Gale Force X while Lazy Laceration went after Four. Although they went nose to nose initially, Gale Force X spun around to the side and began digging in one of its spikes into the side of Disembowler, eventually even managing to get under Disembowler, which it began to carry around the arena. After being pushed into the zap walls and fire pit, Lazy Laceration moved in to get some hits on Gale Force X rather than continue with Four, but it brought its claw down directly onto one of Gale Force X's spikes, ripping the top jaw clean off. Four moves in, and with a better angle rips one of Lazy Laceration's wheels off. Disembowler remained parked up against Gale Force X, weapon not making contact. However, Four's spinning cage loses half of its spikes after coming in contact with the disc of Disembowler, while Gale Force X digs a spike into the left side of Disembowler, causing both of the robot's wheels on that side to become disconnected. One final hit from Four knocks Disembowler out completely, eliminating it from the New Blood competition.
Wins/Losses
Edit
Series Record
Edit
Series 1-2:Did not enter
Series 2.5: King of the Hill Qualifiers, New Blood Qualifiers
Ad blocker interference detected!
Wikia is a free-to-use site that makes money from advertising. We have a modified experience for viewers using ad blockers

Wikia is not accessible if you've made further modifications. Remove the custom ad blocker rule(s) and the page will load as expected.