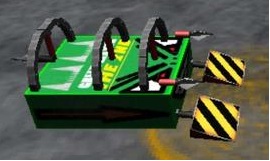 Green Reaper 2 is a robot that will be competing in Banter Wars 3, is created by ajwHull123 and is the follow up to Green Reaper which originally had 2 lawnmower blades, 2 side spikes and a front flipper, It competed in 2.5 in King of the Hill and New Blood but it didn't win either battle. For Green Reaper 2 the front now has 2 independent flippers, 2 spikes slightly above the flippers and a single rear spike on the back. The most noticeable new feature is its roll bars to aid with self-righting much like Phantom Phoenix.
It competed in the Banter Wars 3 Format Test where it finished joint top and won it's final against Bribery 2 with 10 points with 4 wins and 1 defeat. As a result of this performance Green Reaper 2 was seeded 15th for Banter Wars 3 and was drawn into Heat F with Spyder, Pine Tree Punisher, Mike Tyson, Whacko Massimo, Spikey Monster, Rib Massager, Australian Bruce's Brutalizer and Blizzard.
In Banter Wars 2.75 episode 3 it participated in the Flipper Frenzy against Tarchia, Jericho and Gander Goose, throwing both Tarchia and Jericho OOTA thus was the winner of the event.
Ad blocker interference detected!
Wikia is a free-to-use site that makes money from advertising. We have a modified experience for viewers using ad blockers

Wikia is not accessible if you've made further modifications. Remove the custom ad blocker rule(s) and the page will load as expected.