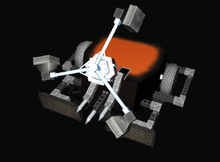 Hammerhead was a robot created by Gaminsoy that participated in Banter Wars 2.5. It is also going to replace his first bot (Gaminsoy) which participated in Series 1.5 and 2 of banter wars. It did well in 2.5, controversially winning the King of the Hill championship over reigning King of the Hill champion The Cakeinator.
It had 3 spinning hammers as it's main weapon, 3 spikes, ram plates and protected wheels.
In Series 2.5, Hammerhead participated in the king of the hill competition. It was drawn up against Green Reaper, Disembowler and The Follicle Challenger. At the start, all four bots charged up the hill. The Follicle Challenger then got destroyed by Hammerhead and Disembowler got flipped over and got stuck at the ramp, thus immobilizing Disembowler. Hammerhead then destroyed Green Reaper, allowing it to win the competition and advancing to the finals, where it won.
Series record
Edit
Series 1.5: Entered with Gaminsoy, Sumo Qualifiers
Series 2: Entered with Gaminsoy, Grand Final Round 1
Series 2.5: King of the Hill, Champion
Series 3: Entered
Ad blocker interference detected!
Wikia is a free-to-use site that makes money from advertising. We have a modified experience for viewers using ad blockers

Wikia is not accessible if you've made further modifications. Remove the custom ad blocker rule(s) and the page will load as expected.