Jolly Roger
Participation Information
UK Series
1
Team
The Sheep Squad
Team Members
Cap'n Crapbeard
Robot Statistics
Weapons
Swinging axes, spikes

Robot statistics correct as of its most recent appearance on the show
"Not very jolly"
— Interesting fact
Jolly Roger was a round shaped robot with spikes all around and two swinging axes. It fought in the first series of Banter Wars but lost in its only fight. Cap'n Crapbeard also qualified with The Cap'n's Merry Ship in the same heat, which did much better reaching the heat final.
Robot History
Edit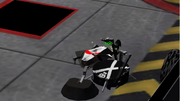 It was up against Newell's Suit and First Mate Diggle in its first round melee. The three robots clash against each other when suddenly Jolly Roger becomes stuck on the pit, both Newell's Suit and First Mate Diggle press the pit release button but Jolly Roger escapes in time. First Mate Diggle hits Newell's Suit several times with its hook-like axe causing massive damage. After Jolly Roger hits First Mate Diggle once with one of its swinging axes and not causing much damage, Newell's Suit then turns around and attacks Jolly Roger with its axe, knocking off one of the swinging axes. Jolly Roger shoves First Mate Diggle across the arena and is knocked immobile by First Mate Diggle's claw, eliminating it from the competition.
Wins/Losses
Edit
Series Record
Edit
Ad blocker interference detected!
Wikia is a free-to-use site that makes money from advertising. We have a modified experience for viewers using ad blockers

Wikia is not accessible if you've made further modifications. Remove the custom ad blocker rule(s) and the page will load as expected.