Kitty

Participation Information
UK Series
1.5-2
Team
Kitty
Robot Statistics
Weapons
Angled spike

Robot statistics correct as of its most recent appearance on the show
Kitty is a thick, boxy robot built by one of the artists featured during Series 1.5, specifically the creator of the original Banterwolf artwork. Kitty is armed with an angled spike and uses car-style steering, the only robot on Banter Wars to do so.
Robot History
Edit
Series 1.5
Edit
Kitty first appeared in the bonus Artist Melee, matched against Ducks Ahoy, Icarus-AZ-Side, and Siren. Taking place on the Bridge of Doom arena, the match begun with Siren flipping the srimech-less Ducks Ahoy over in under 5 seconds, which became one of the fastest knockouts in Banter Wars history. On the other side of the bridge, Icarus-AZ-Side demolished Kitty with its swords whilst Siren was trying to cross over the bridge, however due to the low ground clearance, Siren was unable to do so. Kitty was fully immobilized by this point, and was eliminated from the Artist Melee.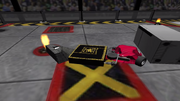 Kitty appeared in Heat E of the main tournament, and was matched against King of the Hill champion The Cakeinator. As the match begins, The Cakeinator goes straight in at one the sides of Kitty and almost immediately takes off two wheels. The Cakeinator continues to rip apart Kitty until turning attentions on Observabot, while Kitty flips out due to a glitch. The Cakeinator begins to assault Kitty again sending it on to the drop zone, where a fridge falls on top of Kitty and takes off a third wheel. The Cakeinator attacks Kitty once more but Observabot calls it quits and attacks The Cakeinator as Kitty is technically out, but The Cakeinator still attacks Kitty and eventually takes off the last wheel. Left as a smoldering heap, Kitty was eliminated from the tournament.
Wins/Losses
Edit
Series Record
Edit
Series 1: Did not enter
Series 1.5: Artist Melee
Series 2: Heat E, Round 1
Series 2.5: Did not enter
Ad blocker interference detected!
Wikia is a free-to-use site that makes money from advertising. We have a modified experience for viewers using ad blockers

Wikia is not accessible if you've made further modifications. Remove the custom ad blocker rule(s) and the page will load as expected.