Leonardo

Participation Information
UK Series
1.5 - 2
Team
Next Quest Please
Robot Statistics
Weapons
Pickaxe and static circular saws

Robot statistics correct as of its most recent appearance on the show
Leonardo is a wedge shaped robot built by Next Quest Please and armed with a unique double-jointed pickaxe and static circular saws on both sides to protect it. Despite decent performances and powerful weaponry since its debut in the Axe Attack Weapons Match competition it has never won a battle probably due to misfortune. Leonardo's pickaxe is double-jointed so that way it has more momentum on the way down to further damage opponents.
The name and robot is based off of Teenage Mutant Ninja Turtles leader Leonardo, as the robot is not only green, it is also slow and well-protected.
Robot History
Edit
Series 1.5
Edit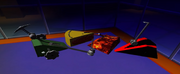 In Series 1.5, Leonardo took part in the Weapons match Axe Attack. There it fought VidieHD, Vangthor, and The Pie. Leonardo did not take part until Vangthor took off the swinging axe of VidieHD. attacks and damages The Pie heavily with its axe. All four robots attack one another until Vangthor immobilizes VidieHD and begins to assault Leonardo, who has almost destroyed The Pie. In a shocking turn of events, Leonardo and The Pie chop off Vangthor's axe, which is a crippling blow to the favorites and made it a target to the others. Leonardo pins the weaponless Vangthor to the side wall and even manages to de-weaponize The Pie in the process by cutting off its axe, however Leonardo's axe then stopped working. Vangthor escaped and charged at The Pie, slamming it to the corner. The Pie then retaliated by wedging itself under Vangthor and getting stuck temporarily. The battle became a shoving contest with little in terms of action and soon went to a judges decision who very controversially as well, voted in favour of Vangthor, to the extreme upset of the Banter Wars fans and builders again, who all believed that Leonardo should've won the judges' decision.
In the first round of the main championship it fought Bumbles. Leonardo starts off very well attacking the bumbling walkerbot. Leonardo attacks the side and causes severe damage. Bumbles tries to turn around to defend itself from the relentless attacks from Leonardo, this works to its favour as Leonardo's axe joint starts to smoke. Bumbles manages to cut the top section of Leonardo's weapon and soon cuts off the rest of the axe. Leonardo, now weaponless, shoved Bumbles onto the floor flipper where the two robots are flipped and made immobile. Observabot cleans up the mess afterwards as the match goes to a judges decision and Bumbles is announced as winner for damage.
Wins/Losses
Edit
Series Record
Edit
Series 1: Did not enter
Series 1.5: Weapons Match
Series 2: Round 1
Ad blocker interference detected!
Wikia is a free-to-use site that makes money from advertising. We have a modified experience for viewers using ad blockers

Wikia is not accessible if you've made further modifications. Remove the custom ad blocker rule(s) and the page will load as expected.