Losermit

Participation Information
UK Series
1.5,2
Team
Losermit
Robot Statistics
Weapons
Flipping arm

Robot statistics correct as of its most recent appearance on the show
Losermit is a white box shaped robot armed with a small flipping arm. It debuted in Series 1.5 entering the Foreigners competition, representing America, losing in the qualifier. It didn't meet much success in its first main series competition losing once again in the first round.
Robot History
Edit
Series 1.5
Edit
It fought in the Foreigners with fellow American and Canadian robots Sentenza Gaming, YAOES and Tre Bryan. Losermit went straight towards YAOES and was immediately flipped onto its rear by YAOES. Since it had no srimech it was helpless. As YAOES slowly shoved the immobile Losermit into the wall, Tre Bryan shunted Sentenza Gaming across the arena and flipped it over at one point, however it was unaffected due to being invertible. YAOES left Losermit to be counted out.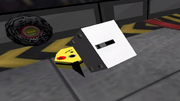 It fought in Heat A and was up against Spunkly (incorrectly referred to in this fight as The Rex Tano). The two come together by the pit release with neither getting any real hits, Spunkly tries to slice away but the weapon freezes. As the two push one another Losermit randomly flips over onto its side (presumably a glitch) and becomes stuck on its side. Spunkly pushes Losermit, ironically enough, away from the pit and so prompt the Observabot to come in and push Losermit back onto its wheels. The two end up pushing one another around until the end of the match. After a dull battle Spunkly was given the win by judge's decision.
LOSERMIT - RESULTS
Series 1.5
King of the Hill
Round 1
Round 1
vs. Sentenza Gaming vs YAOES vs Tree Bryan
Eliminated
Series 2
Round 1
vs. Spunkly
Lost
Wins/Losses
Edit
Series Record
Edit
Series 1: Did not enter
Series 1.5: Foreigners, Qualifiers
Series 2: Round 1
Ad blocker interference detected!
Wikia is a free-to-use site that makes money from advertising. We have a modified experience for viewers using ad blockers

Wikia is not accessible if you've made further modifications. Remove the custom ad blocker rule(s) and the page will load as expected.