My Bestest Robot
Participation Information
UK Series
1
Team
Three Billy Goats Gruff
Team Members
Assistant
Other Entries
Rowbott
Robot Statistics
Weapons
Saw blade

Robot statistics correct as of its most recent appearance on the show
My Bestest Robot was created by the Assistant after he injected Rowbott with "make better robot drugs". It was armed with an effective saw blade that would shoot out of the body, but despite the better weaponry and design and damaging future Grand Finalist Bone Bugger-Upper, it still lost in the first round in Series 1. My Bestest Robot will compete in the Series 2 sumo as My Bestest Best Robot.
Robot History
Edit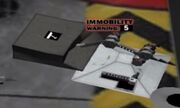 After Rowbott's loss in the previous Eliminator the Assistant injected it with "make better robot drugs" creating My Bestest Robot. It was up against Bone Bugger-Upper and Silly. Bone Bugger-Upper went straight into attacking My Bestest Robot hitting and nipping it causing some damage, while My Bestest Robot sawed the front of Bone Bugger-Upper, causing some damage as well. Silly waddled its way to the fight whacking My Bestest Robot causing little to no damage. Eventually the three robots shove one another into the angle grinder where both Bone Bugger-Upper and My Bestest Robot became stuck to one another. Unable to move My Bestest Robot was counted out while Bone Bugger-Upper managed to free itself. This meant My Bestest Robot was eliminated, and the Assistant was eliminated for the second and final time in Series 1.
MY BESTEST ROBOT - RESULTS
Series 1
Heat A, Eliminator
vs. Bone Bugger-Upper, Silly
Eliminated
Wins/Losses
Edit
Series Record
Edit
Series 1: Round 1
Series 1.5: Did not enter
Series 2: Sumo as My Bestest Best Robot
Ad blocker interference detected!
Wikia is a free-to-use site that makes money from advertising. We have a modified experience for viewers using ad blockers

Wikia is not accessible if you've made further modifications. Remove the custom ad blocker rule(s) and the page will load as expected.