Porcupine

Participation Information
UK Series
2.5
Team
Mechanical Animal
Team Members
Diotoir
Other Entries
The Naked Rat
Robot Statistics
Weapons
Spikes and flipper

Robot statistics correct as of its most recent appearance on the show
Porcupine is a box shaped robot, built as a joke entry and as a reserve partner for The Naked Rat, another machine built by Diotoir. The robot is armed with four "quills" on its back and twin spikes at the front accompanied with a lifting arm.
Robot History
Edit
In its first match in the Team Trash, it was partnered with The Naked Rat and fought against previous runners up Toblerone and AJ Patz. From the start Porcupine went on the attack on AJ Patz while its partner fought Toblerone. Porcupine shoved AJ Patz across the arena and eventually flipped it over, where it couldn't self right. Porcupine started fighting alongside Naked Rat to finish off Toblerone, it attacked its partner by accident some of the times but tried jabbing Toblerone. Luckily Porupine's flip was the deciding factor and the team went through.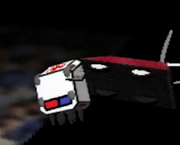 In the second battle the Mechanical Animals met the the doctor birds that were Dr Pheasant and Surgeon Sparrow. Porupine was rammed by Surgeon Sparrow and strangely both robots were elevated from the ground and flew right out of the arena. Unfortunately its partner was destroyed by Dr Pheasant mean the team lost.
Wins/Losses
Edit
Series Record
Edit
Series 1-2: Did not enter
Series 2.5: Team Trash, Round 2. Entered in other events with The Naked Rat
Series 3: Entered with The Naked Rat
Porcupine was based off of Diotoir's flipperbot from Robot Wars: Arenas of Destruction from when he was young, though the Banter Wars entry is slightly larger and less effective.
Porcupine being red is based off of Diotoir's favorite character from Happy Tree Friends, Flaky the porcupine. Porcupines are also Diotoir's favorite animal.
Porcupine was the first Reserve robot to compete in the series it was a reserve for.
Ad blocker interference detected!
Wikia is a free-to-use site that makes money from advertising. We have a modified experience for viewers using ad blockers

Wikia is not accessible if you've made further modifications. Remove the custom ad blocker rule(s) and the page will load as expected.