Quantos



Quantos in its most recent form

Participation Information
UK Series
3
Team
Demon Industries
Team Members
DemonOfTomorrow
Robot Statistics
Weight
800.0KGs (Heavyweight)
Weapons
Full-body Rammer with Trapping Spikes

Robot statistics correct as of its most recent appearance on the show
 Quantos is a robot built by DemonOfTomorrow and is intended to apply for Series 3 of Banter Wars. The design was primarily based off of previously built rammer Kyros' Power, from DSL 2.2.
Designed to kill spinners, Quantos packs a trapping spike array with a feeding wedge that can catch weaponry and tear it off, allowing it to win on points in the event of judges decisions. Quantos is also highly defended, allowing it to last for quite a long while. It is also invertible in the event that it gets flipped and has great agility, owing to its 4 HP Z-Tek drive.
Quantos is also one of the heaviest robots in the competition, sitting just at the weight limit at 800KGs.
Robot History:
Edit
Series 3:
Edit
Quantos has applied to Series 3 and has managed to qualify for the tournament. It is fighting in Heat E, where its progress is currently unknown as of the time of writing.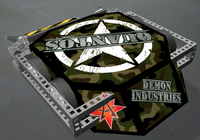 Interestingly, Quantos has a sticker on the back which is the sticker of Demon's most recent and notorious tournament to date, Annihilation Nation. The SBV can be seen here: [1]