Return of the Wizard
Participation Information
UK Series
2,3
Team Members
Wizard of Banter
Other Entries
Wizard of Banter (Series 1)
Robot Statistics
Weapons
Vertical Flywheel (Series 2), Twin Vertical Flywheels (Series 3)

Robot statistics correct as of its most recent appearance on the show
Return of the Wizard (Referred to as **Wizard's Return** in Series 3) was the second robot by the former Grand Finalist Wizard of Banter. It was a hexagonal shaped robot armed with a large vertical flywheel. The robot only appeared in the Sumo competition in Series 2, but returned to Series 3 as the eleventh seed, thanks to its performance in the Series 1 tournament. This version was largely rebuilt for Series 3 by Mattiator of Team Crevasse, who replaced the largely ineffective single off-center grinding flywheel for a pair of heavy discs armed with large striking surfaces. These weapons were nicknamed the "magic hammers" by Mattiator. In addition, Wizard's Return was given a frontal wedge to feed opponents into the hammers as well as armor to keep them away from Wizard's Return's somewhat weak armor. Finally a large red "hat" was added to provide protection for the weapon motors, although the largest weakness of the robot, its inability to self-right, was not addressed, and would haunt it during its Series 3 run.
Robot History
Edit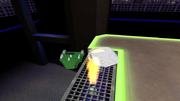 The first battle Return of the Wizard fought was against Kevin. Return of the Wizard slammed Kevin towards the edge and rolls Kevin around. Return of the Wizard then pushes Kevin over on its back before Kevin topples to its downfall.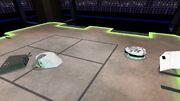 From the start Dinner For One is attacked by Sentencer 2 and is heavily while Return of the Wizard and Bone Bugger-Downer fought with Bone Bugger-Downer flipping Return of the Wizard about. Dinner For One gets its spinner to full speed and knocks Sentencer on its side and eventually bashing it towards the arena claw which finishes Sentencer off. Both Dinner For One and Bone Bugger-Downer ganged up on Return of the Wizard tearing it apart and knocking it over, but Bone Bugger-Downer is betrayed by Dinner For One who shunts it off the edge. Dinner For One eventually got rid of Return of the Wizard.
Return of the Wizard, now referred to as Wizard's Return, was given the eleventh seed for Banter Wars Series 3 due to its performance in series 1. As a result it was placed in Heap B, where it wound up in fourth place overall, and thus did not progress further in the tournament.
Wins/Losses
Edit
Series Record
Edit
Series 1: Entered with Wizard of Banter
Series 1.5: Did not enter
Series 2: Sumo Semi Finalist
Series 3: Heap B, Fourth Place