Return of the Wizard

Participation Information
UK Series
2
Team Members
Wizard of Banter
Other Entries
Wizard of Banter (Series 1)
Robot Statistics
Weapons
Vertical Flywheel

Robot statistics correct as of its most recent appearance on the show
Return of the Wizard was the second robot by the former Grand Finalist Wizard of Banter. It was a hexagonal shaped robot armed with a large vertical flywheel. The robot appeared in the Sumo competition where it won its first battle but lost in the second round.
Robot History
Edit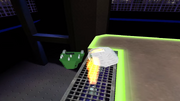 The first battle Return of the Wizard fought was against Kevin. Return of the Wizard slammed Kevin towards the edge and rolls Kevin around. Return of the Wizard then pushes Kevin over on its back before Kevin topples to its downfall.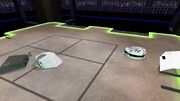 From the start Dinner For One is attacked by Sentencer 2 and is heavily while Return of the Wizard and Bone Bugger-Downer fought with Bone Bugger-Downer flipping Return of the Wizard about. Dinner For One gets its spinner to full speed and knocks Sentencer on its side and eventually bashing it towards the arena claw which finishes Sentencer off. Both Dinner For One and Bone Bugger-Downer ganged up on Return of the Wizard tearing it apart and knocking it over, but Bone Bugger-Downer is betrayed by Dinner For One who shunts it off the edge. Dinner For One eventually got rid of Return of the Wizard.
Wins/Losses
Edit
Series Record
Edit
Series 1: Entered with Wizard of Banter
Series 1.5: Did not enter
Series 2: Sumo Semi Finalist
Ad blocker interference detected!
Wikia is a free-to-use site that makes money from advertising. We have a modified experience for viewers using ad blockers

Wikia is not accessible if you've made further modifications. Remove the custom ad blocker rule(s) and the page will load as expected.