Silly
Participation Information
UK Series
1
Team
The Doctors
Team Members
Silly Doctor
Robot Statistics
Weapons
Spikes and wheels

Robot statistics correct as of its most recent appearance on the show
"Nothing about this robot makes any sense."
— Interesting fact
Silly was an unusual robot that was armed with spikes and it's own wheels as weapons. Silly was not expected to go far due to being unpredictable and cumbersome, however it managed to get to the Heat Final in a surprising twist of events, where it easily lost to Bone Bugger-Upper. After Series 1 Silly became a club and flipper called Silly Billy.
Robot History
Edit
In the eliminators, Silly was up against Bone Bugger-Upper and My Bestest Robot. Silly waddled around, steering in circles and taking its time to get to the action. Upon getting to the action, Silly whacked Bone Bugger-Upper and My Bestest Robot and causing little damage but did get the two opponents stuck onto the angle grinder, with Bone Bugger-Upper escaping just in time. My Bestest Robot was not as fortunate, as it was still stuck and counted out. Silly went through to the next round with Bone Bugger-Upper.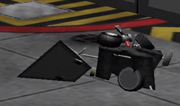 Silly then fought the more advanced Phallus Chopper-Offer. Phallus Chopper-Offer started stronger; bashing, slicing and shoving Silly about but causing little damage. However, Phallus Chopper-Offer became ambitious and went for a side on attack, which caused it to get toppled by one of Silly's spikes, and Phallus Chopper-Offer couldn't self right. This caused Silly to go through to the heat final in a huge surprise.
In the Heat Final, Silly fought Bone Bugger-Upper again. For the first time, Silly was in trouble. At one point Silly almost luckily won when Bone Bugger-Upper got flipped by the floor flipper. Unfortunately for Silly, Bone Bugger-Upper was flipped onto its wheels and went for the kill, toppling Silly over onto its side using its claw, however Silly had wheels on its side. Bone Bugger-Upper then shoved Silly into the CPZ before toppling it on to its back and nipping it with the claw repeatedly, causing Silly to be counted out and eliminated from the competition as it didn't have wheels on its back.
SILLY - RESULTS
Series 1
Heat A, Eliminator
vs. Bone Bugger-Upper, My Bestest Robot
Qualified
Heat A, Round 2
vs. Phallus Chopper-Offer
Won
Heat A, Final
vs. Bone Bugger-Upper
Lost
Wins/Losses
Edit
Series Record
Edit
Series 1: Heat Final
Series 1.5 - 2: Did not enter