Siren




Siren's alternative Series 2 image. "The True Nightmare of the Sea"

Participation Information
UK Series
1.5 - 2 (entered), 3 (applied Siren 3.0)
Team Members
Doodle
Other Entries
Dinner For One (Series 2 Sumo)
Robot Statistics
Weight
Heavyweight
Weapons
Flipper and Axe Combo (referred to as a Clamp Weapon)

Robot statistics correct as of its most recent appearance on the show
Siren is a robot created by YouTuber Doodle Tech or Doodle for Banter Wars Series 2 with a unique clamping weapon "Flippers on the bottom and Samurai Swords on top." Doodle commonly refers to Siren as being a female robot, which is why there is a mermaid on the top of the robot.
Siren had two appearance in Banter Wars Series 1.5, the first was at the end of episode 7 as part of the weekly drawings Doodle did for the show, the second was in the Series 1.5 bonus where Siren was put into an artist melee against Ducks Ahoy, Kitty, and Icarus-AZ-Side on the bridge of doom arena, the match begun with Siren flipping the srimech-less Ducks Ahoy over in under 5 seconds, which became one of the fastest knockouts in Banter Wars history. On the other side of the bridge, Icarus-AZ-Side demolished Kitty with its swords whilst Siren was trying to cross over the bridge, however due to the low ground clearance, Siren was unable to do so. Once Kitty was immobilized, Siren and Icarus-AZ-Side went to the dips in the arena to meet under the bridge, unfortunately, Icarus-AZ-Side, in the second and final case of its bad luck during Banter Wars Series 1.5, fell onto its front and couldn't self right. Siren was going to go in for the kill, but the height of the swords prevented her from getting under the bridge, allowing Siren to steal the victory and become the Series 1.5 artist champion. Siren then appeared in heat G of Banter wars Series 2 where she took out weapons champion Stickman in round 1, Nimbus Force in round 2 and Maria the German in the heat final. Then in the grand final, she luckily managed to beat the destructive The Cakeinator in round 1, Then Elfblade in round 2 and lastly Facetious Goose in the final. She is also appeared in Series 2.5 and 3 as Siren 3.0 a destructive dual spinner
Besides Banter Wars, Siren is also used as a house robot in Doodle's personal series BattleBots vs. Robot Wars where Siren is the Sumo Champion and opponents have to try and survive 3 minutes or push Siren off.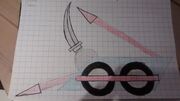 Ad blocker interference detected!
Wikia is a free-to-use site that makes money from advertising. We have a modified experience for viewers using ad blockers

Wikia is not accessible if you've made further modifications. Remove the custom ad blocker rule(s) and the page will load as expected.