The Naked Rat

Participation Information
UK Series
Qualifying for Series 3
Team
Mechanical Animals
Team Members
Diotoir
Robot Statistics
Weapons
Blade and spike

Robot statistics correct as of its most recent appearance on the show
The Naked Rat is a rat shaped robot armed with a static spike and a vertical saw blade. The robot was applied for Banter Wars Series 3 and it made its debut in Series 2.5 and will appear in some of the competitions, one in particular being the Team Trash with other Diotoir machine Porcupine which won't enter Series 3. Despite being a middleweight The Naked Rat is effective as a rambot due to its shape.
Robot History
Edit
Series 2.5
Edit
In the King of the Hill it fought Twig, Chompy and Karinabob. Twig quickly gets on to the centre of the arena but is soon attacked by The Naked Rat, before being dragged away by Chompy and Karinabob. All four robots push and shove one another with Chompy and Karinabob being counted out for not moving, this causes the robots to move away. Chompy turns attensions to The Naked Rat who fights back using its tail. The Naked Rat gets underneath and tries cutting the under belly of Chompy. The Naked Rat is ambushed by all three before Twig gets underneath Karinabob and tries to topple it. Chompy attacks The Naked Rat, but by doing so it loses two arms to the tail spike. The broken arm the causes a glitch to occur sending The Naked Rat and Chompy away from the hill. As a result The Naked Rat becomes stuck and is soon counted out leaving the other three to fight on.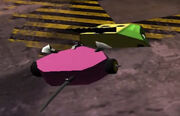 In the New Blood, The Naked Rat fought 180 Overturn Tiger, Chasm and Invertabull. It started well, exploiting a missed flip from Chasm by slipping underneath it to slice at the baseplate. Invertabull was rendered useless after losing two of its wheels, and Chasm was immobilised by 180 Overturn Tiger, leaving The Naked Rat among the final two robots standing, but the powerful pneumatic rams of 180 Overturn Tiger quickly immobilised The Naked Rat, and it was eliminated.
Wins/Losses
Edit
Series Record
Edit
Series 1-2: Did not enter
Series 2.5: King of the Hill, New Blood, Team Trash
Series 3: N/A
Outside Banter Wars
Edit
A slightly different version of The Naked Rat appeared in Diotoir's Wacky Rumbles in Heat D against Eruption, Nuts and Meggamouse. It was flipped out of the arena by Eruption in round one, only for Eruption itself to be chucked out moments later.
The robot was originally going to be called Rattus Rattus.
Ad blocker interference detected!
Wikia is a free-to-use site that makes money from advertising. We have a modified experience for viewers using ad blockers

Wikia is not accessible if you've made further modifications. Remove the custom ad blocker rule(s) and the page will load as expected.