VidieHD

Participation Information
UK Series
1.5,2
Team
VidieHD
Robot Statistics
Weapons
"Foot" Axe

Robot statistics correct as of its most recent appearance on the show
VidieHD is a trapezoidal shaped robot armed with a axe, which is similar to Shin Botherer's axes, and equally football themed. VidieHD has so far had no success, losing in Weapons Match in Series 1.5 and losing in the first round of Series 2.
Robot History
Edit
Series 1.5
Edit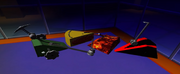 In the Axe attack Weapons match it fought The Pie, Vangthor and Next Quest Please. At the very start, Vangthor made the first move, slamming right into VidieHD and axed away at it with The Pie following suit. Eventually, Vangthor managed to slice VidieHD's axe off, rendering it weaponless. Meanwhile, Next Quest Please attacks and damages Rusty Pie Lover heavily with its axe. All four robots attack one another until Vangthor immobilizes VidieHD, eliminating it from the competition.
In the first round of the main championship it fought MyMateJim. MyMateJim charges at VideHD but the two get stuck, due to MyMateJim's scoop. Observabot splits the two but they attacking each other again, this time VideHD manges to get MyMateJim upright and stuck, before VideHD reverses and frees it. MyMateJim manages to attack the armour by smaking the axe onto the top of the armour plating before trying to attack the Observabot. VideHD gets in on to the side and tries to attack MyMateJim but fails to land a single blow. After Observabot frees the two again in two quick successions and so MyMateJim starts hammering away once more this time knocking it out.
Wins/Losses
Edit
Series Record
Edit
Series 1: Did not enter
Series 1.5: Weapons Match
Series 2: Round 1
Ad blocker interference detected!
Wikia is a free-to-use site that makes money from advertising. We have a modified experience for viewers using ad blockers

Wikia is not accessible if you've made further modifications. Remove the custom ad blocker rule(s) and the page will load as expected.