Ziggy Crust

Participation Information
UK Series
2
Team
Chutorial
Robot Statistics
Weapons
"Fist", "knife", and pneumatic "nose" spike

Robot statistics correct as of its most recent appearance on the show
Ziggy Crust is a hexagonal shaped robot armed with two "fists" and a pneumatic spike which acts like the nose of the robot. The robot debuted in Series 2 where it had great success winning its heat in three very quick and destructive battles.
The robot's design is based off of a character by Chutorial.
Robot History
Edit
Its first round battle was against the Team Trash runners up Toblerone. The two robots clash with Toblerone creating a crevasse in Ziggy Crust, however the match was over very quickly with Ziggy Crust causing heavy damage to Toblerone and eventually knocking it out.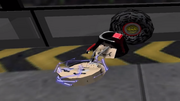 In round two it fought The Follicle Challenger. The Follicle Challenger slams into Ziggy Crust and causes heavy damage to the front of the machine. Ziggy Crust pushes The Follicle Challenger across the arena, not once firing its arms but rather using its pneumatic spike to damage The Follicle Challenger. After slamming The Follicle Challenger into arena wall, Ziggy Crust backs away only to start attacking The Follicle Challenger and this time using its hammer weapons causing heavy damage and even lifting the robot up a few times. The Follicle Challenger manages to get underneath Ziggy Crust but fails to overturn it and is soon attacked by Ziggy Crust once more and knocked immobile.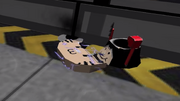 In the Heat Final it fought Scirex. It starts off with Scirex slamming into Ziggy Crust while alsso sufferering some heavy blows from the three weaponed machine. Scirex almost flips Ziggy Crust over but it self rights and attacks Scirex further and in a matter of seconds knocks Scirex out.
Wins/Losses
Edit
Series Record
Edit
Series 1-1.5:Did not enter
Series 2: Grand Final
Ad blocker interference detected!
Wikia is a free-to-use site that makes money from advertising. We have a modified experience for viewers using ad blockers

Wikia is not accessible if you've made further modifications. Remove the custom ad blocker rule(s) and the page will load as expected.